One of the problems deepened by the war; Whereas, ethnic and religious minorities in Yemeni society have suffered from relative marginalization across various periods, whether those during which tolerance prevailed or persecution prevailed; But this violence and oppression against these marginalized groups has increased dramatically during the current conflict to the extent that it is in fact reshaping society, and in order for Yemen to remain as we know it, it is necessary to ensure the existence of its minorities, as an essential part of the composition of nations and homelands dies when minorities disappear.
Yemeni Jews, whose presence in the country dates back thousands of years, played a foundational role in the development of culture and trade and established most of the handicraft industries that Yemen is famous for. Its takeover of Sanaa in 2014 drove nearly all of the remaining Jewish families into exile, which extinguished a part of Yemen's spirit; Similarly, as a report by the Studies Center details, members of the Baha'i community in Yemen are being quickly annihilated as a result of a systematic campaign against them by the Houthi group, a campaign based on slander and slander.
As for the Muhamashin class - an ethnic lower class also called the Akhdam - that was exploited by all the warring parties to the conflict, the Houthis and their opponents recruited the Muhamasheen youth to participate in the fighting on the front lines, while at the same time, the warring parties regularly denied access to all the injured Muhamasheen Health care and financial compensation, and their family names are removed from the lists of recipients of international humanitarian aid.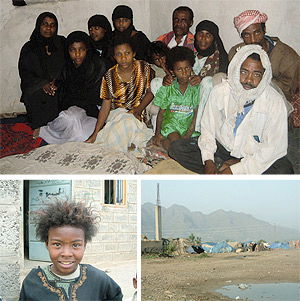 Yemeni society must recognize and confront these practices based on intolerance and deal with them seriously; No Yemeni, regardless of religion, ethnicity, and gender, should be denied legal rights and social protection; This astonishing and liberating acceptance of the difference that Yemen witnessed among its people from different backgrounds before the chaos of 2011 AD, is in fact blatant evidence that Yemeni society was enjoying integration and progress towards all that is better; But foolishness destroyed everything beautiful.
Marginalized groups have always suffered from persecution in Yemen, despite the unity state's interest in them and the formation and support of their own union. However, the current war has brought their plight to the fore. While nearly all Yemenis suffer from conflict, the suffering of marginalized and vulnerable groups has become an existential threat to them.
Yemeni, regional, and international actors must take decisive steps to protect these vulnerable groups; For any UN-led mediation efforts to succeed in achieving a just peace, steps that protect Yemen's marginalized communities must be included in the peace process.